The U.S. Energy Information Administration said Friday that U.S. gas imports have dropped to the lowest level since 1987, thanks to booming domestic gas production.
"As U.S. dry natural gas production has reached record highs, lower domestic prices have helped to displace natural gas imports," the EIA said.
Net natural gas import hit 1.171 billion cubic feet in 2014, the lowest level since 1987.
Imports by pipeline from Canada were the primary cause behind the drop in total imports.
According to the EIA, imports by pipeline from Canada now account for nearly 98 percent of all U.S. natural gas imports.
Net imports from Canada accounted for 7 percent of total U.S. natural gas consumption in 2014, an 11 percent dip since 2009.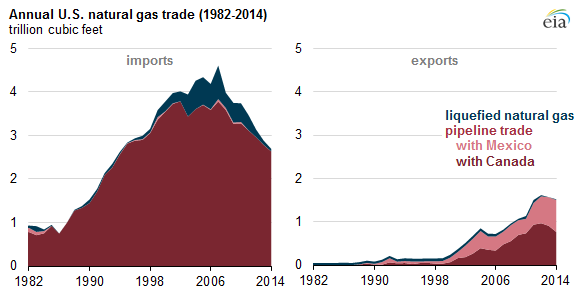 U.S. natural gas exports also slid in 2014, but at a slower rate than the drop in imports, and still managed to stay 9 percent above the previous five-year average.
Natural gas exports to Mexico jumped by 11 percent and now account for nearly 50 percent of U.S. natural gas exports.
Net imports of liquefied natural gas in 2014 fell a whopping 54 percent from the previous year to 43 billion cubic feet, continuing a five year decline.
LNG exports also increased from 2013 levels, but the EIA found the spike was "not enough to offset a nearly 40 percent decrease in total LNG imports in 2014."