Cheaper oil may mean more money in consumer pockets, but weak oil prices are hammering the oil and gas service sector, a new report by the U.S. Energy Information Administration (EIA) found.
According to the report, oil and gas prices as measured by the producer price index (PPI) fell by 49 percent from June 2014 to May 2015.
During that period, rates for drilling activities, that primarily represent service fees for contractors to drill oil and gas wells, dropped by 19.6 percent.
Rates for support activities, a category that includes the surveying, cementing, casing and treating of wells, ticked down by 1.4 percent, while the price of sands primarily used for hydraulic fracturing dipped 12.5 percent.
The PPI index reflects reductions in prices received for particular goods and services, and does not necessarily indicate slowing business activity.
"The price reductions reflect both weakened demand for the services offered and heightened industry competition to maintain market share," the EIA said.
The report also found that year-over-year net income has declined for drilling and extraction companies.
For the first quarter of 2015, a group of 14 drilling companies included in the OSX index, an index of oil and gas service companies, saw their net income drop 91 percent year-over-year.
The companies included in the sample saw their aggregate net income fall to $352 million during the first quarter of 2015 from $4.0 billion during the same period last year.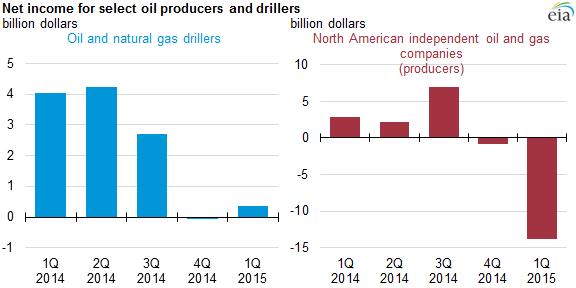 During that same period, the EIA found that a group of 57 North American independent oil and gas producers saw their collective year-over-year net income plummet 574 percent from $2.9 billion in net income to a loss of $13.9 billion.