Wells drilled since 2014 now account for nearly half of all U.S. crude production, according to a new report by the U.S. Energy Information Administration.
The report, published on Tuesday, found that U.S. crude oil production from new wells in the Lower 48 accounted for about 48 percent of total U.S. crude production in 2015, up from 22 percent in 2007.
The production growth has been primarily driven by advances in horizontal drilling and completion techniques that have boosted production from low-permeability tight reservoirs.
In 2015, production from tight formations accounted for more than 4 million barrels per day, or 50 percent of total U.S. oil production, the report said.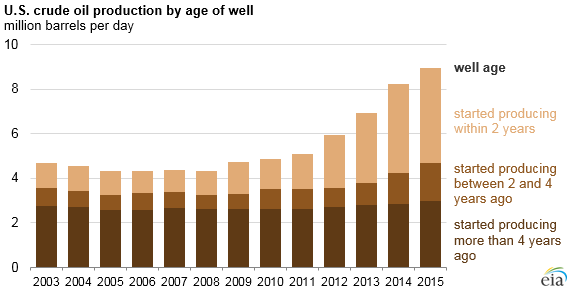 More than 80 percent of oil production from tight formations originates from the Eagle Ford and Permian regions in Texas as well as the Bakken formation.
U.S. tight oil production increased from 0.5 million bpd in 2009 to 4.6 million bpd in May 2015 but dipped 8 percent from May to December 2015, the EIA said.
Despite low oil prices and shrinking upstream spends, oil production from new wells has so far been able to stave off a significant decline in U.S. production levels.
U.S. oil production stood at 9.06 million bpd as of March 11, down from 9.41 million bpd a year ago but still above 2014 levels, according to data provided by the EIA.
The horizontal wells used to drill in tight formations usually have high initial production rates but also suffer from steep initial decline rates.
"With steep decline rates, constant drilling and development of new wells is necessary to maintain or increase production levels," the report said.
The EIA currently expects U.S. oil production to fall from 8.7 million bpd in 2016 and to 8.2 million bpd in 2017.