An expected dip in Lower 48 oil production will be partially offset by a boost in Gulf of Mexico output, according to the U.S. Energy Information Administration (EIA).
In a report published on Tuesday, the EIA said that while onshore crude production in the Lower 48 is expected to fall by about 1.65 million barrels per day from 2015 to 2017 production in the Gulf of Mexico is expected to grow by about 280,000 bpd during the same period.
The EIA currently estimates that Gulf of Mexico production will grow from 1.54 million bpd in 2015 to 1.66 million bpd and to 1.82 million bpd in 2016 and 2017.
Alaska's oil production is projected to decrease slightly from 0.48 million bpd in 2015 to 0.47 million bpd in 2016 and to 0.46 million bpd in 2017.
Lower 48 product is expected to fall from an average of 7.41 million bpd in 2015 to 6.46 million bpd in 2016 and to 5.76 million bpd in 2017.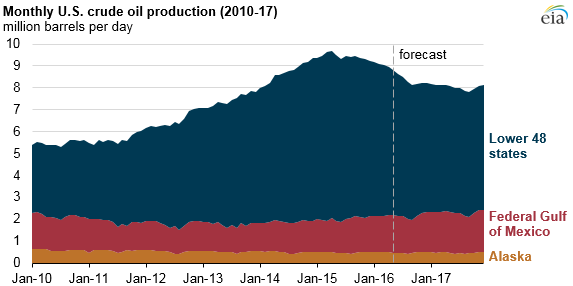 The U.S. rig count fell to 440 rigs as April 15, the lowest level on record since Baker Hughes began collecting data in 1949.
The EIA projects that the number of operating rigs in the Lower 48 states will continue to shrink through the middle of 2016 before beginning to slowly increase.
"The decline in active rigs and well completions is projected to result in month-over-month onshore oil production declines of 120,000 b/d through September 2016," the EIA said.
Expected Lower 48 production will continue to decline, although at a slowing rate, throughout 2017, the EIA said.