Natural gas imports fell to their lowest level since 1986 last year, according to a report from the U.S. Energy Information Administration.
The report, published on Friday, found that U.S natural gas net imports fell to 2.6 billion cubic feet per day in 2015, continuing a decline that began in 2007 when net imports of natural gas exceeded 10 Bcf/d.
Net LNG imports accounted for 19 percent of total U.S. net imports of all natural gas in 2007 but fell to 7 percent in 2015.
However, certain parts of the United States, such as New England, still depend on LNG imports because of their limited access to domestically produced natural gas.
U.S. natural gas net imports from Canada have remained relatively stable since 2011, the report said.
Although U.S. natural gas consumption and production have grown in recent years, natural gas production has grown slightly faster, resulting in a decline in net imports.
Rising domestic natural gas production has also helped reduce U.S. reliance on imported natural gas and help keep U.S. natural gas prices relatively low.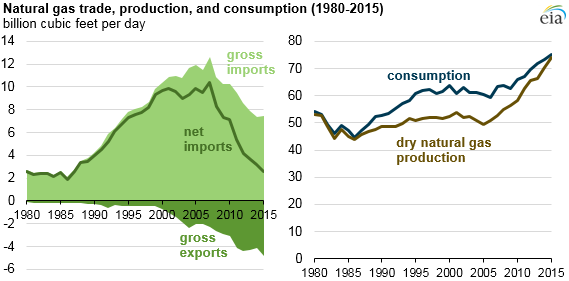 Since 2012, the natural gas pipeline industry has added 3.4 Bcf/d of export capacity to Mexico and 0.2 Bcf/d of export capacity to Canada.
That additional capacity has pushed U.S. natural gas exports to Mexico up from 1.3 Bcf/d in 2011 to 2.9 Bcf/d in 2015.
The United States also exported LNG and compressed natural gas to several countries, but these volumes were "relatively minimal" in 2015, the report said.
EIA's Short-Term Energy Outlook expects the United States to become a net exporter of natural gas by the middle of 2017.
The natural gas industry currently has plans to add 5.4 Bcf/d of export capacity to Canada and 3.4 Bcf/d of  capacity to Mexico by 2019, according to the EIA.
"Demand for additional export capacity from the United States to Canada and Mexico is driven by production growth in the United States and increasing demand in northern Mexico from power generators that use natural gas," the report said.