The U.S. Energy Information Administration said Monday that U.S. petroleum production could grow by just under 4 million barrels per day by 2040.
The EIA projected in its Annual Energy Outlook 2016 that petroleum and other liquid fuels production will grow from 14.8 million barrels per day in 2015 to 18.6 million bpd in 2040.
Total U.S. petroleum and liquid fuels production is expected to climb to just under 20 million bpd by 2040.
Liquid fuels includes crude oil and condensate production as well as natural gas plant liquids derived from natural gas processing along with biofuels and volume gain at refineries.
The outlook also includes several alternative cases based on different price, technological and macroeconomic assumptions.
The agency said that crude production from tight formations and natural gas plant liquids show the largest differences across the various cases.
In the agency's reference case, Brent oil prices are assumed to be at $104 per barrel by 2030.
In the reference case, the agency said that relatively low prices through 2017 have the largest impact on tight oil production.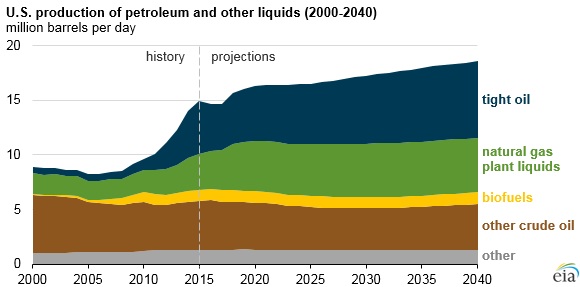 The agency projects that tight oil production will drop to 4.2 million bpd in 2017 before growing to 7.1 million bpd in 2040.
The boost in tight oil production after 2017 will be "largely attributed to higher oil prices and the ongoing exploration and development programs that expand operator knowledge about producing reservoirs," the EIA said.
Of all the crude and liquid types included in the projection, tight oil production changes the most across cases.
In the High and Low Resource/Technology cases, tight oil production in 2040 ranges from 3.12 million bpd in the Low Resource/Technology case to 12.9 million bpd in the High Resource/Technology case.
Production of NGPL rises throughout the reference case projection from 3.3 million bpd in 2015 to 4.8 million bpd in 2025.
NGPL production is expected to grow more slowly in the next two decades, reaching 5 million bpd in 2040 as growth in wet natural gas production slows.
"Future NGPL production depends on both domestic resources and the differential between crude oil prices and natural gas prices," the agency said.
The agency expects production in Alaska to continue declining through 2040 and drop to less than 0.2 million bpd in 2040.
Supplies from renewable sources is expected to grow slowly throughout the projection, holding at about 1 million bpd  across the agency's various oil price cases.