U.S. companies are reportedly "closer" to balancing capital investment with cash flow, according to the U.S. Energy Information Administration.
The EIA said that, despite low crude prices curbing operating cash flow, U.S. oil companies are seeing their "immediate financial situations…improving."
The agency said that although operating cash flow for U.S. onshore producers hit a five-year low in the first quarter of 2016, large cuts to capex have brought the firms "closest to self-finance."
"Operating cash flow has declined over the past year, but it nonetheless has covered an increasing share of capital expenditure as companies are reducing their investment budgets more quickly," the EIA said.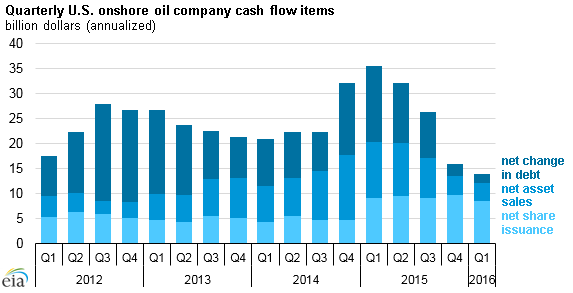 The agency found that smaller investment budgets are also reducing the amount of cash U.S. onshore producers need to raise from outside sources.
Those investment declines follow five years of growing investment levels before oil prices began falling in late 2014.
According to the EIA, operating cash flow accounted for about half of capital expenditure in 2012 and early 2013, a level that made external sources of financing necessary to grow production.
A nearly 34 percent increase in average Brent prices in the second quarter is expected to improve the cash flow situation and help offset revenue dips tied to lower production.
The spend cuts coupled with recent oil price gains are expected to reduce the financial strain on U.S. onshore firms in the coming quarters.
However, the agency warned that falling spends could drag production levels down further and impact revenues.
In the first quarter, the 39 U.S. public onshore companies included in the analysis booked their first year-over-year production declines for both crude and other liquids in five years.
Those declines were driven by falling production from existing fields and a dip in the number of new wells being drilled.
"Falling production would likely reduce revenue and cash flow absent an increase in crude oil prices," the EIA said.