The U.S. oil and natural gas production sector has shed about a quarter of its jobs since oil prices began falling in late 2014, according to a new report.
The U.S. Energy Information Administration said earlier this month that the number of oil and gas production jobs declined by 26 percent from October 2014 to May 2016.
Employment in oil and natural gas production reached a high of 538,000 jobs in October 2014 before shedding more than 42,000 jobs through May 2016, the EIA said.
The agency found that, despite crude prices rising since the start of the year, employment in oil and natural gas extraction and support activities have continued declining from levels reached in the fall of 2014.
"The total decrease in production jobs is nearly three times the 51,000 jobs lost over a 13-month period during the 2008–09 recession," according to the agency.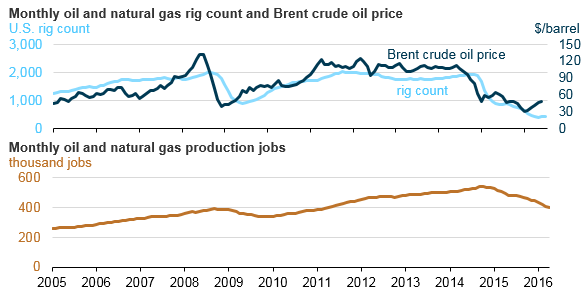 However, the job losses have not been as steep as the U.S. rig count decline over the same period.
The number of oil and gas rigs drilling in the U.S. fell from nearly 1,800 rigs in late 2014 to just over 400 rigs in May 2016.
The U.S. rig count has recovered slightly since May, climbing by 17 to 481 rigs last week and posting its seventh straight week of gains.
Falling rig counts and waves of layoffs have only had a "relatively modest" impact on production, the EIA said.
In May, U.S. crude oil production was down only 6 percent year-over-year while natural gas production only ticked down only 1 percent compared to May 2015.
Compared to October 2014, the peak month for employment in the sector, U.S. crude production was down 2 percent in May 2016 while natural gas production was flat.
"The divergence between trends in rig counts and employment on the one hand and oil and the trends of natural gas production on the other are attributable to increases in production per new well in key regions, driven in part by advances in siting and drilling technology," the EIA said.