West Texas Intermediate (WTI) short positions held by producers and merchants has hit a 9 year high, according to the U.S. Energy Information Administration (EIA).
The EIA said on Monday that short positions in WTI futures held by producers or merchants totaled more than 540,000 contracts as of October 11.
That figure marks the largest number of short position futures held since 2007, according to data collected from the U.S. Commodity Futures Trading Commission.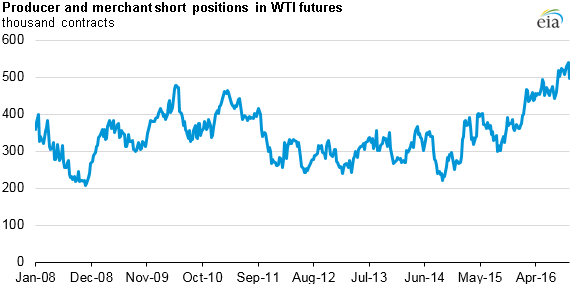 Establishing a short position allows the holder of a futures contract to lock in a future price for a commodity and helps reduce exposure to price fluctuations.
The EIA said that tighter lending conditions have prompted some banks to require upstreams to hedge against future price shocks as a condition for lending.
The agency found that short positions of WTI futures have grown at a faster pace than futures for Brent crude since the summer of 2016.
The EIA said that trend suggests that U.S. producers are able to profitably drill when WTI is in the $50 per barrel range.
In the agency's latest Short-Term Energy Outlook, the EIA said that an improved financial outlook and rising capital expenditures during the second quarter has boosted U.S. drilling activity.
The EIA found that capital expenditures for 46 publicly traded U.S. onshore oil producers rose sequentially in the second quarter of this year, the only quarter-over-quarter increase since 2014.
"Many companies improved operating efficiency, reduced costs, and improved their balance sheets as crude oil prices stabilized" during the second quarter, the EIA said.
The EIA currently expects rising drilling activity and increasing efficiency to boost U.S. onshore producing by the second quarter of 2017.
The agency expects U.S. crude oil production to average 8.7 million barrels per day in 2016.
U.S. crude production is expected to average 8.6 million bpd in 2017, a 100,000 bpd increase from the agency's previous forecast.