The Permian Basin now holds nearly as many rigs as the rest of the Untied States combined, according to the U.S. Energy Information Administration.
The EIA said on Tuesday that U.S. drilling activity has become "increasingly concentrated" in the Permian Basin.
The play now holds nearly as many active oil rigs as the rest of the United States combined, including both onshore and offshore rigs, the agency said.
The Permian Basin stretches from parts of western Texas into southeastern New Mexico.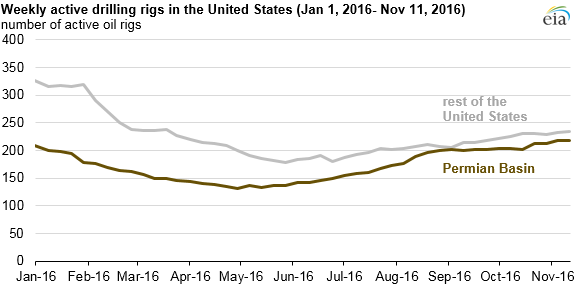 The region is also the only major producing region in the United States that is forecast to see crude oil production grow for the third straight month in December.
The EIA currently expects production in the Permian to grow to 2.065 million barrels per day in December, up from 2.038 million barrels per day in November.
That gain is expected despite a forecast 20,000 bdp drop in overall oil production from the seven largest plays during the same period.
The EIA attributes the Permian Basin production gains to a small recovery in West Texas Intermediate (WTI) prices and improved credit conditions boosting merger and acquisition activity.
Merger and acquisition deals involving assets in the Permian Basin have only accounted for 11 of the 49 deals announced so far in the fourth quarter.
However, deals involving Permian Basin assets have accounted for more than half of the total value of deals reached in the fourth quarter, the EIA said.
The basin's rising rig count also suggests that upstreams are investing in development projects in the area.
According to Baker Hughes, the Permian Basin has seen its rig count climb back up to 218 rigs as of November 11 after slipping below the 150 rig mark in May.
The EIA said earlier this year that it expects U.S. oil production to average 8.7 million bpd in 2017, a 100,000 bpd increase compared to the agency's previous forecast.
However, that production increase hinges on an expected WTI price increase.
"Significant divergence of actual prices from the projected path could change the pace of drilling new wells, which would, in turn, affect the production forecast," the EIA said on Tuesday.