Low oil prices drove government revenues earned from energy production federal lands to down their lowest level in over ten years.
According to data collected by the U.S. Energy Information Administration,  U.S. government collected almost $6 billion in revenues in the fiscal year 2016 from royalties, rental costs and other fees from activities related to energy production on federal and American Indian lands.
That amount marked the lowest revenue level since at least 2004, the EIA said.
From 2010 to 2013, federal revenues increased thanks to growth in offshore and onshore revenue and relatively high oil prices.
While production on federal lands has continued to grow, low oil and natural gas prices have put a dent in royalty revenues.
Revenues generated from federal lands climbed past $14 billion in 2013 but have fallen every year since oil prices tumbled in late 2014.
Royalties accounted for $5.1 billion, or 86 percent, of total 2016 revenue from energy production on federal lands.
The EIA found that royalties from crude oil accounted for 55 percent of the total revenue collected from energy production on federal lands from 2010 to 2016.
Natural gas royalties accounted for less than $1 billion of total royalties earned from federal lands in 2016 compared to nearly $2 billion in 2010.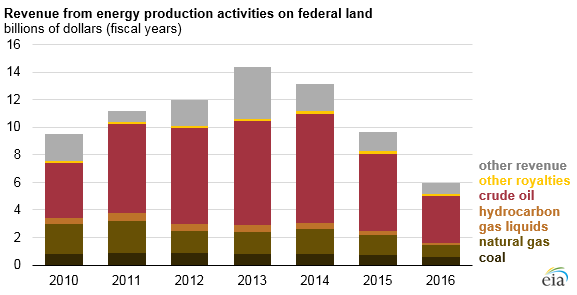 Federal royalties collected from energy production are distributed to federal, state, and other funds.
The U.S. Treasury received $2.4 billion in revenues for 2016, the largest share of any recipient, the EIA said.
About $560 million of the royalty revenues were distributed to 34 federally recognized American Indian tribes and more than 35,000 individual Indian mineral owners.
The remaining $2.8 billion was disbursed to the the Reclamation Fund that uses the money for water management and efficiency programs for the benefit of 17 western states, as well as the Land and Water Conservation Fund.
The  Land and Water Conservation Fund provides grants to all levels of government for for easements, land acquisition and overall conservation work.