U.S. crude production posted a second straight month of gains late last year, according to the U.S. Energy Information Administration (EIA).
The EIA said on Tuesday U.S. crude production increased for the second consecutive month in November.
The growth marked the first consecutive, two month production gain since early 2015, the EIA said.
The production gains were driven by a drilling activity boost in the Permian Basin as well as the startup of new Gulf of Mexico projects.
The EIA found that those gains "more than offset declining production from other regions in October and November 2016."
The EIA found that U.S. crude oil production averaged an estimated 8.9 million barrels per day in 2016.
Monthly crude and monthly U.S. crude oil production increased by 232,000 bpd in October and by 105,000 bpd in November.
Production in the Lower 48 states increased by 104,000 bpd in  October.
Lower 48 production fell by 2,000 bpd to an average of 6.7 million bpd in November.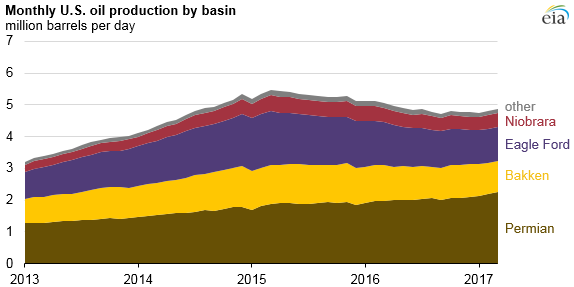 GOM production increased by 85,000 bpd in October and by 89,000 bpd in November.
Changes in Alaskan oil production accounted for the remaining differences.
While areas outside of the Permian did record production declines over the last two years, the EIA said rig data suggests that those areas will likely see production gains moving forward.
Low operating costs in the Permian made it the only major shale region that did not report a single month with a year-over-year production decline between 2014 and 2016, the EIA added.
Based on recent rig count gains, the EIA now expects production in the seven regions included in the DPR to increase from 4.8 million bpd in November 2016 to 4.9 million bpd in March 2017.